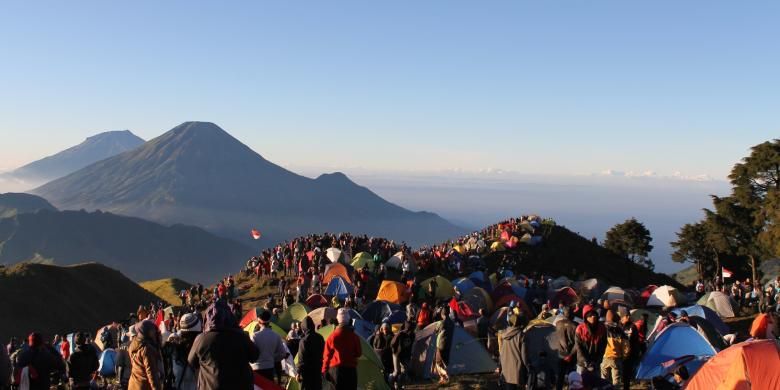 Learn 5 Safe Tips As You Go Mount
The main goal in hiking / climbing the mountain is not just reaching the highest peak of the mountain. However, going home and hanging out with your beloved family is the most important thing in climbing the mountain.
(Read also: Mountain Hiking Tips for Beginners)
In climbing the mountain, there are some things that must be prepared for climbers climbing activities smoothly. There are many things that really need attention. However, for starters, consider the five safe tips on climbing the following mountains.
1. Physical and mental preparation before Hiking / climbing
Mountain climbing is an exhausting activity. In addition to its up and down terrain, sometimes the weather on the mountain is uncertain. Therefore, physical and mental preparation is very important.
2. Bring climbing equipment
Mountain climbing is not a simple thing. Do not bring unneeded items. If carrying an excessive item can disrupt the trip, for example the carrying bag becomes unstable. It is also advisable to bring everything brought into the carrier bag and avoid carrying something.
With no carrying anything, will make our hands easier to do any movement to help climb or down the mountain.
3. Recognize the symptoms of AMS
AMS is Acute Mountain Sickness or altitude sickness on the mountain. "As many as 75 percent of cases, AMS usually occurs when the climber enters the altitude of 3,000 – 4,000 mdpl. Symptoms of the emergence of AMS usually appear 12-24 hours after climbers arrive at these altitudes, "said Mountain Guide in Indonesia Expeditions, Rahman Muchlis on the show" Sharing Tips and Experience Hiking up to 4,000 mdpl "at Consina Store Buaran, Jakarta, Saturday (25 / 2/2017).
Symptoms usually appear as headache, nausea, loss of appetite, shortness of breath, disturbed sleep, and so forth.
The solution to overcome this is the climber must remain conscious and keep doing light activity. "Do not climb to higher ground, if symptoms get worse, it is advisable to descend to a lesser place," Rahman said.
Studying acclimatization techniques to avoid symptoms of AMS is also very important for climbers.
4. Take care of climbing permit
This is very important when climbing a mountain. By taking care of the climbing permit, the climber will be recorded by a local officer. This is very useful if there is a lost climber or has not provided news at all, the officer will quickly act.
In the data when registration permit is also usually there is a doctor's license and written history of disease there. With this in mind, officers can appropriately carry medical supplies and special handling when the disease of the climber recurs.
5. Berky when rain falls
Often the weather on the mountain quickly changes without us knowing it. In the morning the sun shines very bright, but it could be rainy day fell very dense. In this case the climbers should be wary of this weather change.